Aging Neck & Chest
Tanishing Body Serum
GLOW, FIRM, LIGHTLY RESURFACE, SOOTHE, SOFTEN, LIFT    The latest in body dermal science    Developing a sun-kissed skin tone from an enjoyable holiday break is currently not possible for many...
• New patented glow technology •

• With Revivinol "Unretinol" renewal benefits •

• Glow | Tighten | Smooth | Renew •
✔ Enhance skin's natural sun-kissed tone
✔ Improve firmness, texture & suppleness
✔ Reduce age spots, redness & uneven tone
✔ Boost skin's defenses against oxidative stress
✔ Transform tired, dull and lackluster skin
Firmer. Smoother. Glowing.
REVEAL YOUR SUMMER YOUTHFUL GLOW
#GlowingSkin
Ready fo a year-round rejuvenated natural healthy glow?

Get that sun-kissed summer holiday look with naturally bronzed smoothed skin that helps you feel confident, healthier-looking, relaxed and self-assured.

Quick fixes like self-tanners or body makeup are only superficial and temporary. Plus, the results are fleeting and the ingredients sometimes artificial, making it difficult to match to individual skin tones.

Tanishing Serum's NEW powerful glow-boosting peptides works differently: they work WITH your skin, not just on it.
Tanishing Serum also utilizes our highly-rated Revivinol "Unretinol" technology: all the benefits of retinol, without any of the downsides of redness, irritation, or peeling.

A unique multi-action intensive formula, Tanishing Serum visibly improves fine lines & wrinkles and skin tone, elasticity & firmness, radiance & glow.

It can reduce the appearance of sags, wrinkles, roughness, dryness, and mottled complexion.

Tanishing Serum also calms irritation and provides visible relief to acne-affected skin (like "bacne!")


TANISHING SERUM IS ONLY $79 — LESS THAN $10 PER OUNCE!
New patented glow pentapeptide
Patented biomimetic peptide of a-MSH
Retinol-like benefits without the downsides
Advanced bioferment skin benefits
Calms redness & sensitivity
Powerful algae-based antioxidant
Forearm Study
5-day application, once per day, no UV exposure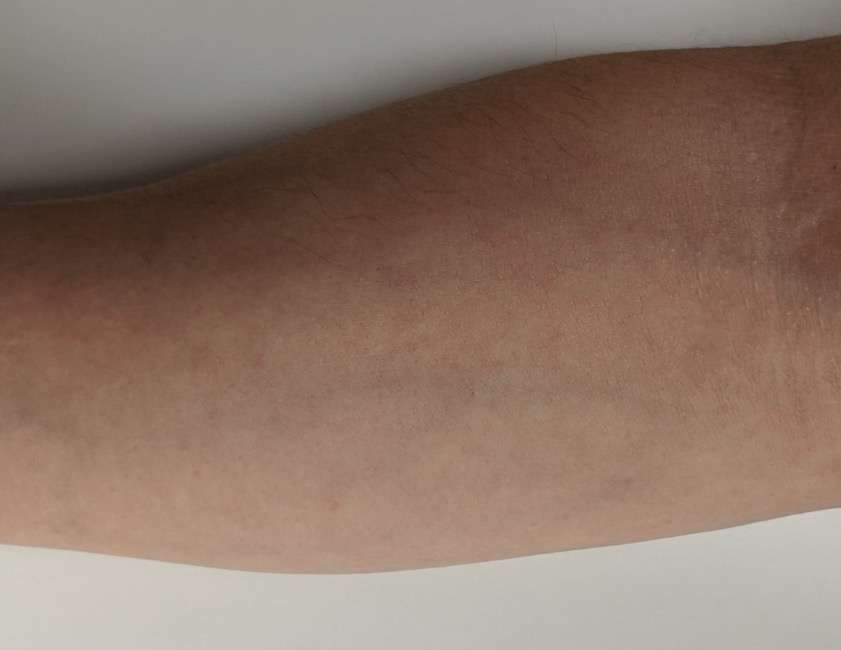 After 5 days, no UVR exposure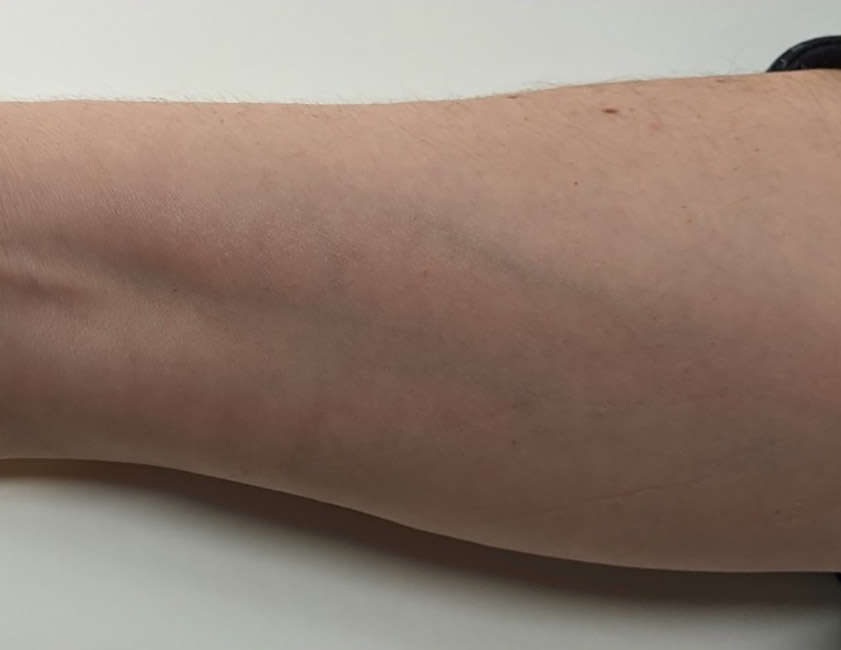 BEFORE, Female, 42, Fitzpatrick III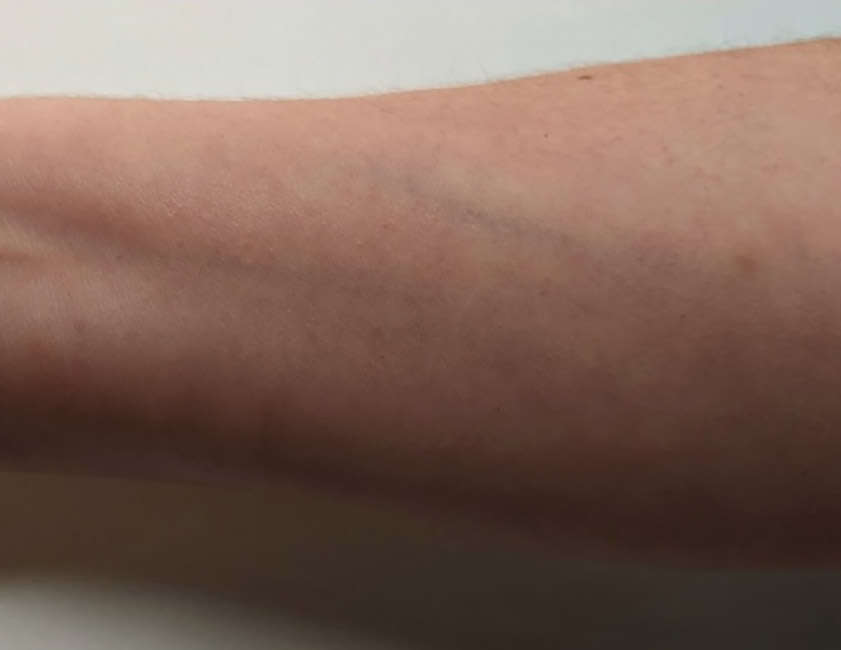 After 5 days, no UVR exposure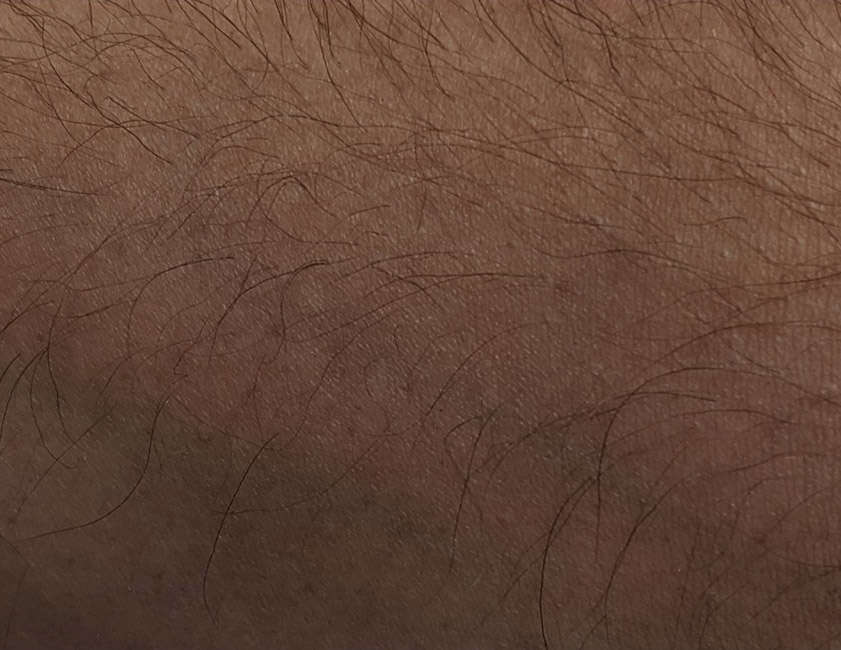 BEFORE, Male, 36, Fitzpatrick IV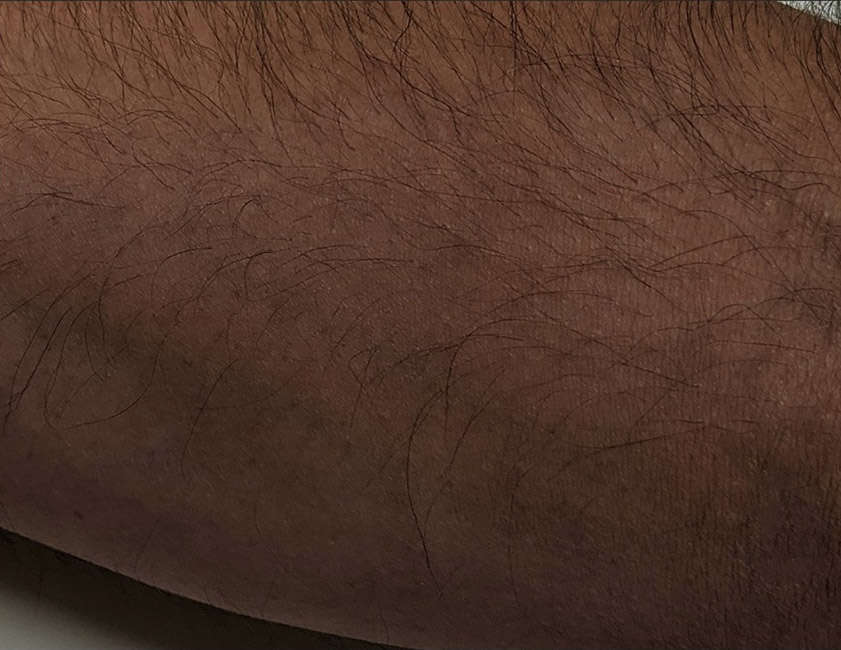 After 5 days, no UVR exposure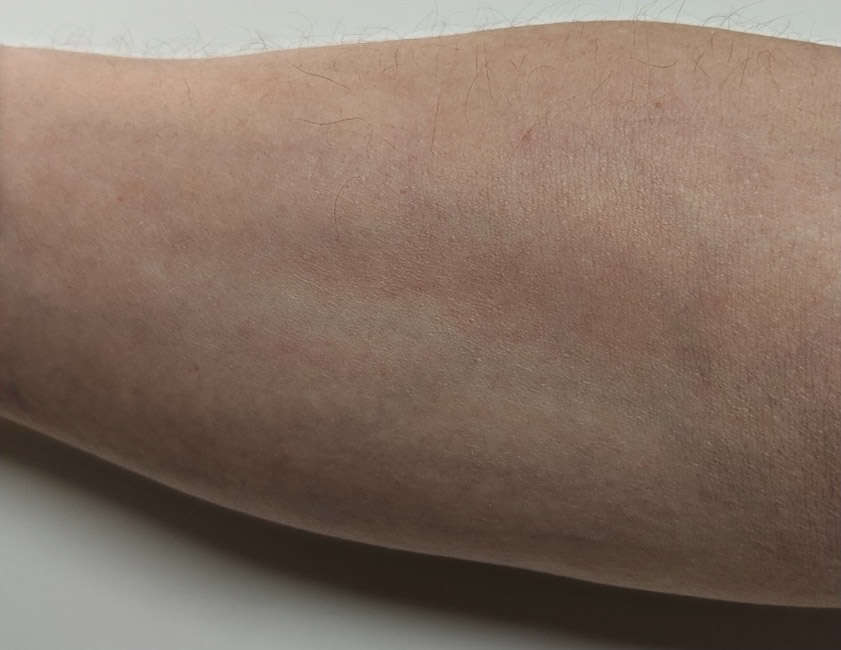 BEFORE, Male, 51, Fitzpatrick II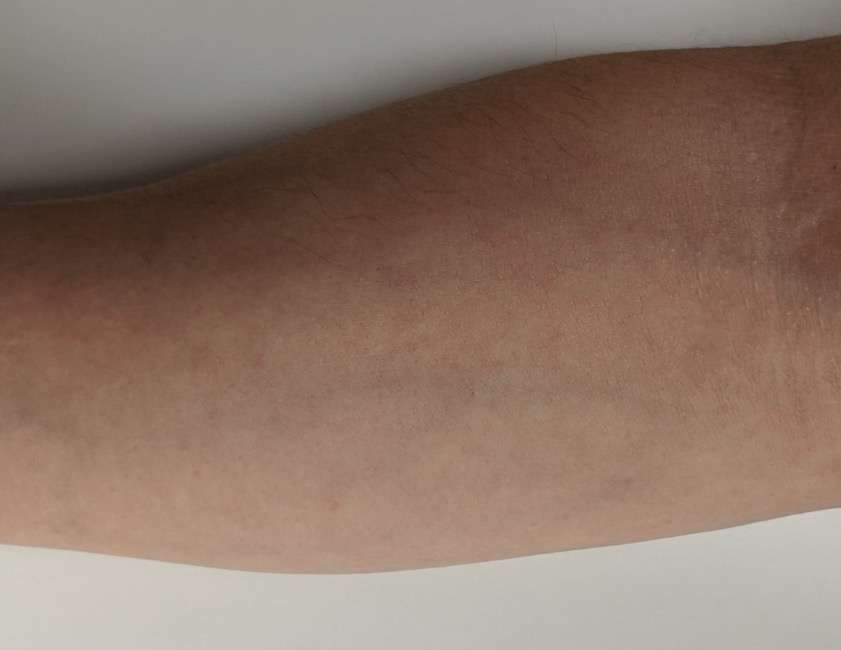 After 5 days, no UVR exposure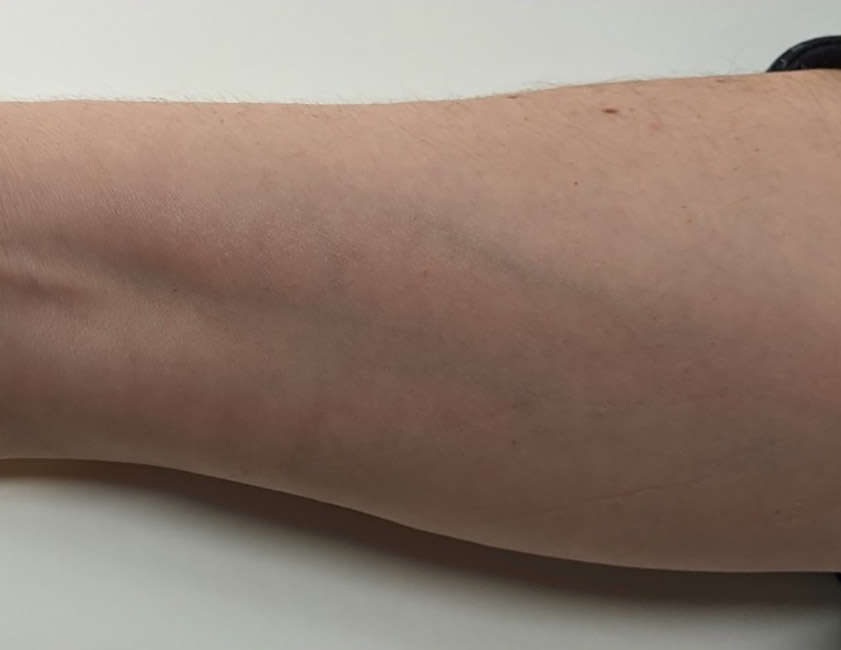 BEFORE, Female, 42, Fitzpatrick III
GLOW, FIRM, LIGHTLY RESURFACE, SOOTHE, SOFTEN, LIFT    

The latest in body dermal science   


Developing a sun-kissed skin tone from an enjoyable holiday break is currently not possible for many consumers. That's where Tanishing Body Serum steps in to deliver an iconic, natural-looking, glowing complexion that compliments a wide variety of skin types and tones.

Tanishing Serum works with your skin's natural processes to promote a "tanish" glowing, natural sun-kissed complexion from within. Its hero ingredient, new patented SYN-GLOW™, encourages your skin to boost the appearance of melanin, the compound responsible for tanning, with radiantly visible results in just 5 days* and long-lasting effect.

Unlike fake tans, Tanishing Serum does not cause streaks or make your skin appear artificially colored because it contain no depositing color or DHA pigment.

While typical body lotions can hydrate skin and help temporarily relieve symptoms, the results are often superficial and can mask underlying problems. Tanishing Body Serum addresses skin damage, proper skin barrier functioning, and a range of other benefits.

It's definitely not just another moisturizer - you'll see a difference in short order: skin looks tighter, more glowing & luminous, and totally transformed.

Vegan and clean, these are sustainable and environmentally friendly new cosmetic alternatives backed by concrete scientific evidence.


ABOUT THE KEY INGREDIENTS

SYN-GLOW™ 3.0%

Tanishing Serum is the first North American product on the market with SYN-GLOW™, a new and unique patented pentapeptide that enhances skin's natural tone and boosts skin's defenses against oxidative stress and promote cellular repair. It is the perfect "tonic" for tired, dull and lackluster skin caused by the stresses of everyday life.

SYN-GLOW has been extensively tested for efficacy by both in-vitro and in-vivo consumer panel tests, and is clinically proven.

Experience up to a 30% increase in the appearance of pigmentation with 3% SYN-GLOW, in as little as 5 days, with long lasting and naturally personalized effects, and independent of UVR (meaning sun exposure is not necessary) since it targets MC1R, the master regulator of skin tanning.

Here's a short video about remarkable new SYN-GLOW:




MELINOIL 2.0%

According to its inventor / manufacturer, Melinoil 2.0% has shown to increase the appearance of skin pigmentation up to 41% and doubles tanning intensity, thus offering better internal skin protection against harmful effects of UV.


REVIVINOL™ TECHNOLOGY

1.0% SYTENOL A + 1.0% DERMAPEP A350
Hard-to-believe Revivinol consists of a blend of two new patented technologies: Sytenol® A and Dermapep™ A350, both unique retinol-substitute molecular compounds.

Retinol is renowned for its all-around anti-aging and acne-fighting abilities. But many people find retinol's side effects (irritation, dryness, peeling, reddening, burning) to be unacceptable, and these side effects often result in non-compliance and discontinuation of therapy.

That's where "unretinol" Revivinol's Sytenol A comes to the rescue.

The first true clean and natural alternative to age-fighting retinol without having any of the negatives associated with retinol, Sytenol A™ Bakuchiol ("back-uh-heel") is derived from an organic compound found in the Ayurvedic babchi herb, Psoralea corylifolia. DermaPep™ A350's retinol-like activity helps support skin's natural collagen synthesis and an anti-aging effect against environmental stimulus like UV irradiation.

Retinol-free formulation. Retinol-like benefits. No Retinol-like negatives. REVIVINOL. Learn more about our remarkable Revivinol facial serum here.


SENSAMONE® P5

This biomimetic peptide is based on a sea anemone-like peptide calms sensitive skin and reduces the appearance of redness, itching, and irritation. To ensure improved skin uptake, the peptide is incorporated into a soft sphere carrier system based on shea butter.


WAKAME (ASIAN KELP) STEM CELLS

This advanced bioferment is derived from cultured wakame marine algae, and has stellar well-aging, antioxidant, collagen synthesis, oxygen-boosting and mitochodrial efficiency skin benefits.


ASTAXANTHIN

This algae-based antioxidant outperforms both vitamins C and E, and works even better when combined with them (which we do). Astaxanthin is what gives shrimp and salmon their red-orange color. Note that the color won't stain the skin at all; it's simply an indicator of astaxanthin's presence in the formula.

Our astaxanthin comes from Haematococcus pluvialis algae, which is not only cruelty-free and vegan, but is thought to be the very best source of astaxanthin available and regarded as the strongest antioxidant vitamin in nature.


CENTELLA ASIATICA (ORGANIC GOTU KOLA)

This compound, also known as Cica is the latest K-Beauty craze known for its verified firming effects on the skin.


ADDITIONAL KEY INGREDIENTS

We combine the latest wildcrafted organic botanicals with superstar actives: botanical hyaluronic acid, skin barrier-supporting Vitamin B6 niacinamide, amino acids, cold-pressed plant lipids like rosehip oil, organic MSM (a sulfur-like natural healing solvent and penetration enhancer), cucumber, aloe, argan, licorice, and hydrating Sodium PCA & Sodium Lactate.

Tanishing Serum is fragrance-free (has no added fragrance), with a light characteristic scent that dissipates quickly. 

This product replaces our RevivSculpt Transforming Body Serum, now discontinued.






DATASHEETS

SYN-GLOW™
SYTENOL™-A
SENSAMONE® P5



INSTRUCTIONS FOR USE

Apply to desired areas once or twice a day, preferably just after showering and/or exfoliating. Avoid contact with eyes and mucous membranes. Decrease frequency or discontinue use if irritation develops. For external use only.

This body serum can also be used on the face. Works for all ethnicities and skin tones. Note the serum does not protect from UV rays. The use of a well-formulated broad spectrum UVA/UVB blocking sunscreen with a minimum SPF of 30 is recommended for daily use.

FULL INGREDIENTS (8 oz / 240 ml):
Water/Aqua/Eau, Aloe Barbadensis (Organic Aloe) Leaf Juice, Argania Spinosa Kernel (Organic Argan) Oil, Benzoyl Dipeptide-18 D-Phenylalanyl Arginyl D-Tryptophan Dipropylamide Mesylate (and) Glycerin, Rosa Canina Fruit (Organic Rosehip) Oil, Niacinamide (Vitamin B3), Isopropyl Palmitate, Lecithin, Simmondsia Chinensis Seed (Organic Jojoba) Oil, Tocopherol (Vitamin E), Cucumis Sativus Fruit Water (Cucumber Hydrosol), Undaria Pinnatifida Cell Culture Extract (Wakame Asian Kelp Stem Cells), Astaxanthin, Cassia Angustifolia Seed Extract (botanical hyaluronic acid), Hydrogenated Lecithin, Butyrospermum Parkii (Shea) Butter, Acetyl Hexapeptide-1, Bakuchiol, Myristoyl Tripeptide-31, Pentapeptide-59, Dimethyl Sulfone (MSM), Glycyrrhiza Glabra Root (Organic Licorice) Extract, Vinca Major (Organic Periwinkle) Extract, Sodium PCA, Sodium Lactate, Arginine, Aspartic Acid, Glycine, Alanine, Serine, Valine, Isoleucine, Proline, Threonine, Histidine, Phenylalanine, Centella Asiatica (Organic Gotu Kola) Extract, Equisetum Arvense (Horsetail) Extract, Geranium Maculatum (Wild Geranium) Extract, Taraxacum Officinale (Dandelion) Extract, Hydroxyethylcellulose, Maltodextrin, Carrageenan, Phenoxyethanol, Caprylyl Glycol, Sorbic Acid, Potassium Sorbate, Sodium Benzoate, Phenethyl Alcohol, Ethylhexylglycerin, Citric Acid, Tetrasodium EDTA.



Note from our legal eagles: None of our products are intended for use in the cure, mitigation, treatment or prevention of disease and/or are not intended to affect the structure or any function of the human body. Any testimonials on this website are based on individual results, and do not constitute a guarantee that you will achieve the same results.
Fantastic
This is awesome! I'm allergic to dyes in almost all tanning products. This uses no dyes and gives a very realistic looking tan that my skin loves. Great lotion at at good price. One bottle lasts a long time.
Doesn't work on type 1 :(
I was very enthusiastic about this product but it doesn't work on me at all, after 10 days - zero effect. Unfortunately I have to give one star, second star for staff which is very helpful and communicative
Interesting Twist to an old Favorite
I love, love, loved the Transforming Body Serum, so I was a little hesitant about a 'new' formula. I'm happy to report the results remain the same. Smooth, skin that doesn't have that flaky appearance. I live in Colorado, so winters are pretty harsh here given our 5% humidity. As you can see by the image, there's definitely a glow. The only reason there's not 5 stars is that the scent is a little off-putting, but that dissipates quickly. In full disclosure, I'm partial to non-scented or hint of scent, so this may just be me. YMMV. The product is still as wonderful as the original with it's quick absorption and non -greasy feel..
Pleasantly surprised
Fair skin, burn easily...tone is decidedly darker without streaks or unnatural color. Absorbs quickly. Smells a bit funny intially, but wears off quickly. GOod additional ingredients for skin. A little pricy but worth it.
Innovative product
I got to be a tester for this serum, and I can say it definitely works. It took a bit longer than 5 days, more like 8 or 10, but it does impart a darker glow. Not a dark tan, but a warmer hue. The best part was the skin benefits, which were faster. Decollete, knees, tummy all look silky and smooth, and it has helped tremendously with the K.P. bumps I have on the back of my arms.