RevivSerums.com Debuts Novel "Unretinol" Serum: Revivinol
Industry: Beauty
First skincare product worldwide with new blend of natural alternatives to retinol
San Francisco, CA (PRUnderground) January 22nd, 2019
RevivSerums.com, a San Francisco-based global leader in cosmetic chemistry innovation, introduces a first-of-its-kind topical product, Revivinol "Unretinol" Serum.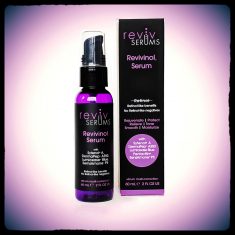 This potent breakthrough serum features Revivinol, a combination of two patented compounds making it the first natural true alternative to age-fighting retinol, without having any of the negative side effects like irritation or sensitivity associated with retinol.
Retinol is renowned for its all-around anti-aging and acne-fighting abilities. But many people find retinol's side effects (irritation, dryness, peeling, erythema, burning) to be unacceptable, and these side effects often result in non-compliance and discontinuation of therapy.
That's where Revivinol comes to the rescue.
Revivinol's dual action components, Sytenol (R) A and Dermapep (tm) A350, are powerful substitutes for retinol and retinoic acid without the negative side effects, and are supported by strong efficacy data shown to help reverse the appearance of wrinkles, mottled hyperpigmentation, and age-related changes. Its retinol-like activity helps support skin's natural collagen synthesis and an anti-aging effect against environmental stimulus like UV irradiation. Great for all skin types, even sensitive, it does not irritate or make skin photosensitive like retinoids, so it may be used during the day.
Revivinol Serum also targets damaging UV, infra-red, and blue light radiations from phones, tablets and computers, as well as pollutants in the air, with the remarkable compound LUMICEASE BLUE.
Here's a short video: https://www.youtube.com/watch?v=TdpRvOg1N2s
"As the first company worldwide to bring such a product to market, we are delighted to augment our popular and superbly effective range of skincare serums with such a remarkable 'unretinol' product," noted Vance Nesbitt, Reviv Serums' "Director of Lotions and Potions" and principal formulator. "Revivinol Serum is also packed with a deep hydration active that lasts an amazing 72 hours, and a biomimetic peptide based on a sea anemone protein which reduces the appearance of skin irritation and redness."
Revivinol "Unretinol" Serum is available immediately at RevivSerums.com here, which ships to many countries worldwide with free shipping, and at select retailers, e-tailers, salons, medspas and physician's offices.
Its release coincides with Indie Beauty Expo Los Angeles, the biggest independent beauty trade event in the world.
#Revivinol #RevivSerums  #SytenolA  #retinol  #retinoids #bakuchiol #weareindiebeauty
https://revivserums.com/products/revivinol-unretinol-serum
Legal
Revivinol is a trademark of Astonishing Developments Ltd. Sytenol is a registered trademark of Sytheon Ltd. DermaPep is a trademark of Miwon Commercial Co., Ltd. LUMICEASE is a trademark of Lipotec S.A. Other company and/or product names may be trade names, trademarks and/or registered trademarks of the respective owners with which they are associated. These statements have not been evaluated by the U.S. Food and Drug Administration. Products not intended to diagnose, treat, cure, or prevent any disease. Products described are intended to meet the FDA's definition of a cosmetic product, an article applied to the human body to cleanse, beautify, promote attractiveness, and alter appearances.
About RevivSerums.com / Astonishing Developments Ltd.
RevivSerums.com, based in beautiful San Francisco, specializes in novel and innovative clinical treatment serums for skin and hair rejuvenation. Their unique formulations are next-generation, high-performance, leading-edge — and any other great hyphenated catchphrases you can imagine.