SerumScoop: Tips, tricks and news


Sytenol® A - A Functional Analog of Retinol From the perspective of topically applied compositions, a small molecule without having the negatives of Retinol that safely mimics the properties of Retinol (Fisher et al., FASEB J,1002-1013, 1996) is a greatly sought after ingredient.

Volcanic plots illustrate the molecular signatures of Retinol and Sytenol® A of a DNA microarray experiment using reconstructed full thickness epidermis. This shows a very similar overall shape, indicating similar overall modulation of gene expressions in the skin substitute model. Multiple comparative studies revealed Sytenol® A to be the true alternative to Retinol (Chaudhuri, In Cosmeceuticals and Active Cosmetics, 3r Edition, Eds., Maibach et al., Chapter 1, 1-18, 2015) for anti-aging applications and does not have the inherent safety & stability issues of Retinol.

A recent randomized, double-blind clinical study between Sytenol® A and Retinol carried out by UC-Davis Dermatologists demonstrated that both compounds significantly decreased wrinkle surface area and hyperpigmentation, with no statistical difference between the compounds. The Retinol users reported more facial skin scaling, burning and stinging. Authors concluded that Sytenol® A is a more tolerable alternative to Retinol (Dhaliwal et al, British J Dermatology, 2018 Jun 27. doi: 10.1111/bjd.16918).

Clinically Proven to Reduce Multiple Signs of Aging

Protocol:
• Human volunteers – 17; 16 Completed; Age – 41 to 60 yrs; Caucasian (14), Hispanics (2)
• Study duration – 12 weeks
• Test sites – Full face
• Test substance – Lotion with 0.5% Sytenol® A; Contains No sunscreen and No moisturizer
• Application frequency – About 2 g twice a day
• Methodology – Expert grading/Self-assessment by panelists (Grading 0 to 4): (1) Roughness & Dryness; (2) Fine lines & wrinkles; (3) Skin tone; (4) Skin elasticity & firmness; (5) Radiance; (6) Brightening; (7) Overall eye-area appearance; Silicone Replica Analysis: Wrinkle depth & Skin roughness; Photography: Before & after the treatments; Readings were taken at baseline, 4, 8 & 12 weeks.

• Statistical Analysis – Statistical significance defined as p ≤0.05

Results

The results clearly showed that, after twelve weeks treatment, significant improvement in lines and wrinkles, pigmentation, elasticity, firmness and overall photo-damage was observed, with no irritating effect on skin. Based on these results and the comparative studies of Retinol and Sytenol® A done by Sytheon, we conclude that Sytenol® A is the first true Retinol-like anti-aging product (Chaudhuri & Bojanowski, Intern J Cosmet Sci, 36(3):221-230, 2014).


Get the remarkable benefits of Sytenol A in Revivinol "Unretinol" Serum here.


---
RevivSerums.com Debuts Novel "Unretinol" Serum: Revivinol
Industry: Beauty
First skincare product worldwide with new blend of natural alternatives to retinol
San Francisco, CA (PRUnderground) January 22nd, 2019
RevivSerums.com, a San Francisco-based global leader in cosmetic chemistry innovation, introduces a first-of-its-kind topical product, Revivinol "Unretinol" Serum.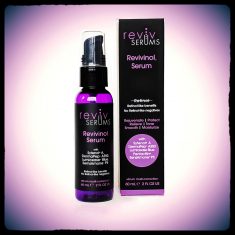 This potent breakthrough serum features Revivinol, a combination of two patented compounds making it the first natural true alternative to age-fighting retinol, without having any of the negative side effects like irritation or sensitivity associated with retinol.
Retinol is renowned for its all-around anti-aging and acne-fighting abilities. But many people find retinol's side effects (irritation, dryness, peeling, erythema, burning) to be unacceptable, and these side effects often result in non-compliance and discontinuation of therapy.
That's where Revivinol comes to the rescue.
Revivinol's dual action components, Sytenol (R) A and Dermapep (tm) A350, are powerful substitutes for retinol and retinoic acid without the negative side effects, and are supported by strong efficacy data shown to help reverse the appearance of wrinkles, mottled hyperpigmentation, and age-related changes. Its retinol-like activity helps support skin's natural collagen synthesis and an anti-aging effect against environmental stimulus like UV irradiation. Great for all skin types, even sensitive, it does not irritate or make skin photosensitive like retinoids, so it may be used during the day.
Revivinol Serum also targets damaging UV, infra-red, and blue light radiations from phones, tablets and computers, as well as pollutants in the air, with the remarkable compound LUMICEASE BLUE.
Here's a short video: https://www.youtube.com/watch?v=TdpRvOg1N2s
"As the first company worldwide to bring such a product to market, we are delighted to augment our popular and superbly effective range of skincare serums with such a remarkable 'unretinol' product," noted Vance Nesbitt, Reviv Serums' "Director of Lotions and Potions" and principal formulator. "Revivinol Serum is also packed with a deep hydration active that lasts an amazing 72 hours, and a biomimetic peptide based on a sea anemone protein which reduces the appearance of skin irritation and redness."
Revivinol "Unretinol" Serum is available immediately at RevivSerums.com here, which ships to many countries worldwide with free shipping, and at select retailers, e-tailers, salons, medspas and physician's offices.
Its release coincides with Indie Beauty Expo Los Angeles, the biggest independent beauty trade event in the world.
#Revivinol #RevivSerums  #SytenolA  #retinol  #retinoids #bakuchiol #weareindiebeauty
https://revivserums.com/products/revivinol-unretinol-serum
Legal
Revivinol is a trademark of Astonishing Developments Ltd. Sytenol is a registered trademark of Sytheon Ltd. DermaPep is a trademark of Miwon Commercial Co., Ltd. LUMICEASE is a trademark of Lipotec S.A. Other company and/or product names may be trade names, trademarks and/or registered trademarks of the respective owners with which they are associated. These statements have not been evaluated by the U.S. Food and Drug Administration. Products not intended to diagnose, treat, cure, or prevent any disease. Products described are intended to meet the FDA's definition of a cosmetic product, an article applied to the human body to cleanse, beautify, promote attractiveness, and alter appearances.
About RevivSerums.com / Astonishing Developments Ltd.
RevivSerums.com, based in beautiful San Francisco, specializes in novel and innovative clinical treatment serums for skin and hair rejuvenation. Their unique formulations are next-generation, high-performance, leading-edge — and any other great hyphenated catchphrases you can imagine.